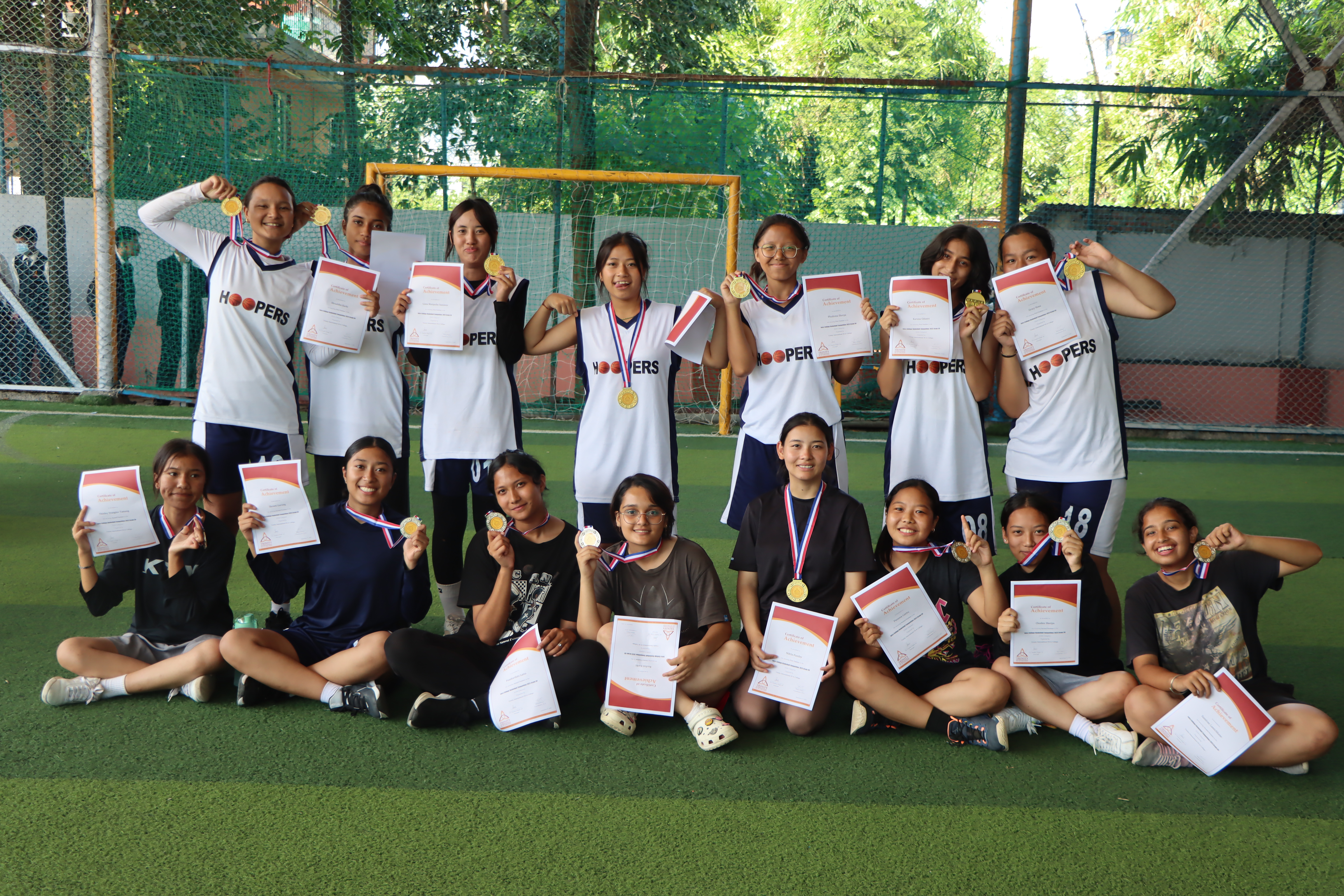 September 17, 2023
Trinity International SS & College conducted the Intra-College Basketball Tournament at Trinity Basketball Court where 25 teams of Grade XII competed fiercely for glory. This thrilling sporting spectacle left participants and spectators in surprise of the incredible basketball talent on display.
The Intra-College Basketball Tournament not only showcased the incredible basketball skills within the Grade XII class but also highlighted the importance of sports in education. It brought the college community together in a spirit of healthy competition and camaraderie.
The prize distribution ceremony, a moment of immense pride and achievement, was graced by the esteemed presence of Director, Mr. Dinesh Kattel, and Miss Dibya Bajracharya; who personally handed out medals and certificates to the deserving awardees in both the boys' and girls' categories.
Congratulations poured in for all the winners and participants, as they proved that hard work and passion truly pay off. The event left everyone with a sense of pride in their college and the promise of an even brighter future for basketball within its halls.
The Intra-College Basketball Tournament at Trinity is sure to remain a cherished tradition, motivating future generations of athletes to continue striving for excellence.
Top of Form
| | | | |
| --- | --- | --- | --- |
| Boys Category - First | Boys Category - Second | Girls Category - First | Girls Category - Second |
| Tenzin Gurung | John Rai | Diksha Nepal | Choden Sherpa |
| Santosh Puri | Bigya Khadka | Ambika Gurung | Shreeti Gurung |
| Sijan Gurung | Samraja Dangi | Phudoma Sherpa | Sumiran Lamichhane |
| Chewang Rinchen Sherpa | Samrat Jung Hamal | Gracy Hona | Psauhardata Lama |
| Lhakpa Dorje Tamang | Kamal Bhujel | Karuna Chhetri | Roshni Karki |
| Ankit Limbu | Sushant Sapkota | Shraddha Karki | Thinley Wangmo Tamang |
| Samin Thapa | | Liana Marpache Sunuwar | Panuma Limbu |
| Somit Dangol | | Nikita Pandey | |