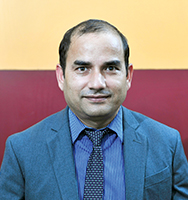 Dear Students
Welcome to Trinity and its culture of proven excellence where our distinctive support system would foster academic excellence and overall development.
We offer well over 500 attractive scholarships enhancing student performance and bringing about meaningful lifelong changes. We've had outstanding results because of our academic support. Trinity students emerge as Board toppers in Science & Management every year. Our graduates get top placements with scholarships especially in medical, engineering and management fields here or abroad. Our alumni too are doing excellently worldwide.
The College has a superb faculty and committed staff members who provide the right learning environment. We offer many all-round opportunities like ECAs, CCAs, sports,field visits, holiday camps, social service with online versions of such refreshing engagement. We believe in the active participation of parents, guardians, and stakeholders.
During this period of social distancing, and public health concerns, Trinity has opted for superb blended learning combining world-class digital technology alongside traditional face-to-face teaching. This has helped in uninterrupted learning for all our students. We now look forward to working with you all.
Best wishes
Dr Dambar Singh Air
Principal