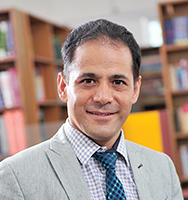 Dear All
You would be interested to know that Trinity is Nepal's leading institution for the +2 programme. It also runs excellent Cambridge International A Levels and TU affiliated Bachelor's programmes.
We focus on academic achievement of the highest order that is reinforced by all-round education and personal development. With unprecedented attainment well over a decade, we feel all the more committed to ensuring the best possible environment including state-of-the-art infrastructure for the continuing success of our learners.
Trinity has many advantages: The College offers wide-ranging, supportive scholarships to deserving students. Our academic courses reflect the highest standards of teaching-learning. We impart ideal education for a secure and successful future for each Trinitian.
The dynamic Trinity team is fully committed to the realization of our institutional vision and mission. As the Academic Session 2022- 2024 commences, it gives me great delight to invite you all to become a special part of this admirable college determined to serve you.
Best regards
Umesh Thapa
CEO