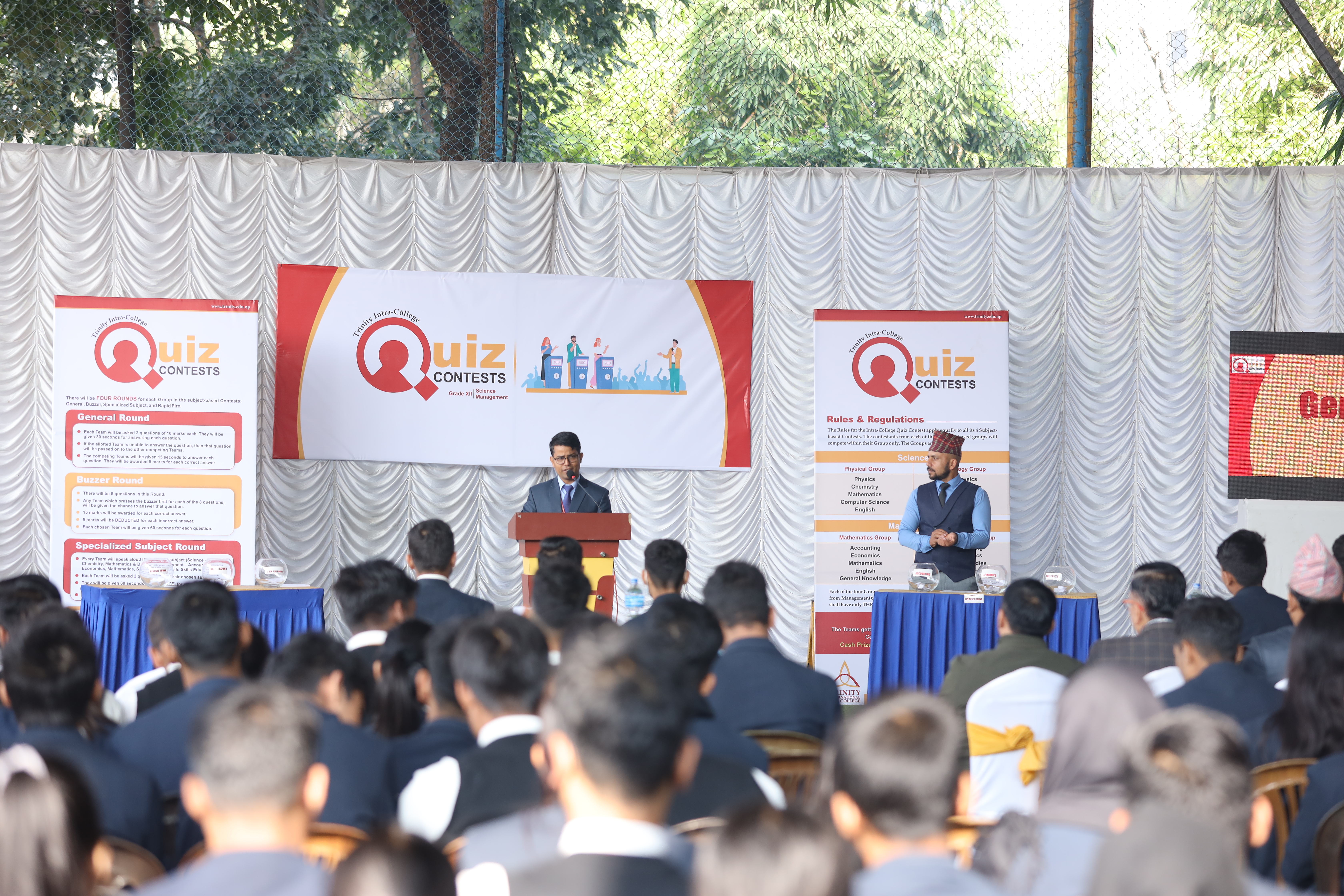 November 07, 2023
Trinity organized a challenging Intra-College Quiz consisting of 4 Subject-based Contests based on +2 academics on Monday & Tuesday, 6 & 7 November, 2023, for its Grade XII students. Around 40 Teams with 120 student participants competed.
This exciting event was held on our premises, and hugely encouraged our students: intellectual curiosity and competitive spirit through its fast questions and time bound answers.
Our special thanks go to the concerned HODs, Academic Coordinators, and the ECA Department who made this Quiz Contests a memorable success because of their creative inputs and hard work.
Winning Teams:
Teams

First

Second

Third

Physical Group

Tiran Gautam

Sankalpa Ghimire

Udip Raj Joshi

Ashim Dimdung Tamang

Aayush KC

Avinab Bhattarai

Manish Adhikari

Bishesh Subedi

Shree Krishna Lamichhane

Biology Group

Basant Pangeni

Sankalpa Acharya

Sushila Yogi

Nishtha Gupta

Nisha Uprety

Barsha Gurung

Aayush Paudel

Aashutosh Yadav

Kushal Babu Nepal

Social Studies Group

Laxmi Bastola

Nikita Pandey

Riteeka Pokharel

Phudoma Sherpa

Anisha Tamang

Roshan Sherstha

Matrika Ghimire

Bipana Thapa

Prashant Rai

Mathematics Group

Srayesha Karmacharya

Lasata Maharjan

Ayush KC

Dikshanta Adhikari

Kunjan Bhattarai

Sagar Mahatara

Shirish Tiwari

Nischal Ghimire

Kohinoor Karki